<!-//////////////////////////////////////////////////////////////////////////////////////////////////////////////////////////////////////////////////////////////////////////////////////////////////////////////////////////////////////////////////////////////////////////////////-->
Harp Lessons
Teaching Experience
Pay for your online harp lessons here:
Go to Harriet's Paypal
Harriet teaches private harp lessons from her cottage near Aberystwyth. She has over 25 years of experience as a harp teacher in the UK and abroad. She teaches online lessons worldwide with current pupils in many different countires including Canada, the USA, Germany, France, Greece, Hong Kong and Gibraltar.
Between 2005-2008 she had 3 years working as peripatetic harp teacher for Flintshire County Music service in North Wales with over 50 pupils in the county. She has also taught harp for Ceredigion County Music Service in 2008 and again in 2015 and for Carmarthenshire Music Service in 2014.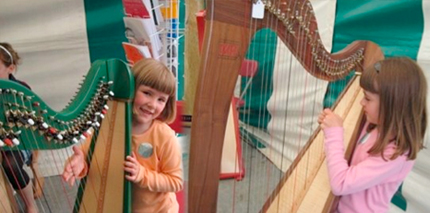 Her pupils currently range in age from 5 to 101.
Harp Ensembles
After growing up in Surrey where harpists are exceedingly rare, the idea of getting lots of harpists to meet and play together has always appealed! In the 1990s Harriet helped out on tours to France, Belgium and the Netherlands with the Surrey Harp Ensemble with her friend Luisa Cordell. After moving to Wales Harriet then ran the weekly Flintshire County Harp Ensemble for 3 years, competing with them in the National Eisteddfod in Mold in 2006.
In 2005 she organised a tour of Wales for the ensemble in combination with the International Harp Ensemble. Together the ensembles broke a world record for the largest number of harpists ever to play in a Welsh castle in Denbigh Castle making Welsh headlines and finished the tour with a sell-out performance in St Asaph cathedral.
In January 2013 Harriet started a weekly harp ensemble for all her pupils and has spent a lot of time over the last few years organising regular concerts and workshops for them.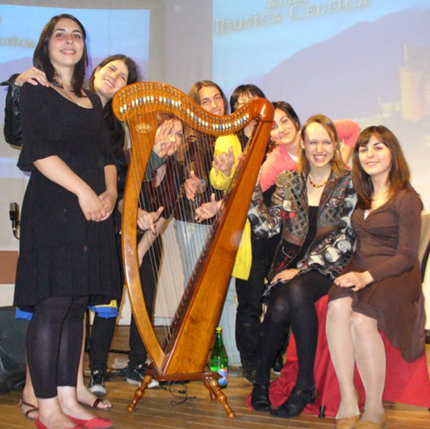 Teaching styles - Classical harp
Harriet believes that a good classical harp technique with very relaxed hands gives the ability to play any kind of music on the harp from jazz to folk without getting injuries later in life.
Harriet learnt the French style of harp playing (the "Conservatoire Method") from the wonderful harpist Suzanne Bevis (Suzanne Norie-Miller) who lives in Chandler's Ford near Winchester. Suzanne studied under Tina Bonifacio in the Guildhall School of Music, learning the style promoted by the renowned French harpist Henriette Renié (1875-1956). Henriette Renié in turn was taught by Alphonse Hasselmans.
Renié wrote one of the definitive books on harp technique, the "Complete Method for Harp" and was an incredible virtuoso on the newly developed Erard pedal harp, winning the Premiere Prix at the Paris Conservatoire aged just 11 in 1886, one of the first women ever to do so.
Harriet's teacher Suzanne Bevis also studied under 2 other famous teachers still teaching today, David Watkins in Wales and Edward Witzenburg in Holland, but always counts Tina Bonifacio as her main teacher. Harriet is very proud to have a "musical pedigree" dating back through Suzanne and Tina Bonifacio to Henriette Renie and Hasslemans.
As a teenager Harriet went to as many harp courses and harp summer schools as possible, which gave her the opportunity to have classes and master-classes with many famous harpists specialising in different styles of playing (e.g. Ieuan Jones, Daphne Boden, Elinor Bennett, Deborah Henson Conant, Patsy Seddon, Mary MacMaster, Robin Huw Bowen, Park Stickney, Bill Taylor, Paul Dooley and Eira Lyn Jones to name but a few). She has also been an avid attender at all the main harp festivals including the Edinburgh Harp Festival, the Cardiff World Harp Festival,The Caernarfon Harp Festival, The World Harp Congress and the European Harp Symposium since the mid 1990s.
Harriet had some regular private lessons during her gap year from Susan Drake, harp tutor to the National Youth Orchestra, who was another influence on her playing.
Harriet is committed to trying to pass on the thorough classical harp grounding that she got from Suzanne Bevis (which gained her Grade 8 with Distinction aged 16 in 1996) to all her pupils, as she has found it so helpful herself in allowing her to play every kind of music on the harp from rock to traditional.
She is happy to teach at any level from complete beginners to above Grade 8 level. Some of her ex-pupils have recently graduated in classical harp at the Royal Northern and the Royal College of Music in London and several are now professional harpists.
Harriet's emphasis is on enjoying making music and using the harp to communicate to an audience and to express emotion through music. People travel from as far afield as Shrewsbury (a 200 mile round trip) to have regular weekly lessons with her and occasionally come from abroad for one-off sessions.
Although Harriet now concentrates mainly on Celtic harp for her performances, she still does occasional classical pedal harp performances, for example performing Mozart's Flute and Harp Concerto with flautist Douglas Townsend and the Lampeter Chamber Orchestra in summer 2011.
She has also had a fair amount of orchestral harp experience, playing for several years with Surrey University Orchestra whilst still at school and then with Cambridge University Orchestra and various local and regional orchestras in England and Wales. So she is happy to help pupils with orchestral parts.
Jazz harp
Harriet is also straying into jazz with her work with the Harriet Earis Trio (harp, bass and drums) and with the Richard Hughes Trio in Birmingham.
She has to date taught 6 jazz harp courses on the last 6 consecutive years of the Glasbury Harp Summer School and has given several jazz harp workshops around Wales. She has attended courses with renowned jazz harpists Park Stickney and Deborah Henson Conant, learning some tips and techniques from them and also took part in a radio documentary, where she learnt about jazz and free improvisation, which was broadcast on Radio Wales. She has performed several times with her trio as part of the fringe of the Brecon Jazz festival, at the Festival Interceltique in Lorient, France and also at the Celtic Connections Festival in Glasgow as well as at Birmingham Jazz Club. All this has all given her an insight into jazz that she can pass on to her pupils.
Celtic harp - Irish harp
As well as teaching classical music and jazz, Harriet particularly enjoys having a chance to pass on her delight in Celtic music. Harriet has degree in Celtic Studies and feels most at home playing any kind of Celtic music, in particular Irish traditional music.
Harriet has been playing with Irish bands, in Irish shows and with duos and trios since 1997 as well as competing in the All Ireland (she has been All Britain champion in the Fleadh Cheoil na hEirinn twice) and in the Fleadh Nua in Ennis, Co.Clare. She has spent months living in the North West of Ireland in Donegal absorbing the style and learning tunes, as well as the Irish language.
She thrives on the challenge of trying to adapt lively Irish music from other instruments (uilleann pipes, fiddle, concertina, accordion, whistles) and finding ways to copy some of the common ornaments so essential for good traditional music (crans, rolls, triplets, cuts, etc) onto the harp.
She loves finding interesting left hand patterns to put with tunes learnt from single-line melody instruments and is also happy to pass on tips for improvising around traditional tunes, both in sessions in pubs and for ceilidhs, as well as in concert situations.
She also enjoys teaching tunes by ear in the old-fashioned oral tradition.
She is one of the few harpists attempting to play dance melodies (jigs and reels) on harp in a ceilidh band setting and she has played a lot for Irish step dancers in shows over the years as well as doing a bit of dancing herself to learn how the music fits with the steps for jigs, reels, slip jigs, hornpipes, etc.
Harriet likes nothing better than to pass on some of these ideas to anyone else interested in playing authentic traditional Celtic harp and gives regular specialist Irish harp lessons in Wales, London, Reading and abroad.
Celtic harp - Scottish harp
Harriet has also spent a lot of time in the Hebrides and in mainland Scotland, learning tunes and learning to speak Scots Gaelic. She works with Gaidhlig singers regularly and enjoys teaching Scottish tunes.
Celtic harp - Welsh harp
More recently, from living in mid Wales, Harriet has also got interested in the old Welsh techniques of harp playing, including going on courses with Bill Taylor, Bob Evans and Paul Dooley to learn how to read and interpret the medieval music in the Robat ap Huw manuscript.
She is part of a new generation of musicians across Wales who are researching old Welsh tunes in manuscripts and trying to get them back into the living tradition. She has also recently been working closely with Welsh triple harpist Robin Huw Bowen running workshops to teach the music of the Welsh Gypsy Harpers, in particular the tunes of John Roberts, Telynor Cymru.
Foreign language harp lessons
Please note: Harriet speaks Welsh at home and is happy to give lessons through the medium of Welsh as well as English - indeed many of her pupils are currently taught through Welsh. She also teaches weekly online harp lessons through French and German and has just started giving some harp lessons through the medium of Irish Gaelic. She also speaks Scots Gaelic - and is willing to try out some Italian too!
Cost
Private individual lessons normally cost £40 an hour.
What to expect
Harriet is very happy to respond to the individual needs and requirements of all her pupils – some people prefer to take exams, other don't; some prefer to read music, others prefer to learn by ear; some love pop music; some love jazz; some love Irish music; some just want to work up the classical harp grades; some want to sing with the harp; some want to play medieval music. Everyone is different and the music lessons are flexible and respect those differences. Harriet is happy to spend a long time arranging music especially to suit different pupils and has transcribed and adapted everything from Adele to Iron Maiden to Robat ap Huw for the sake of her pupils!
Normally all lessons start with warm up exercises and inevitably involve some discussion of hand position, relaxation, fingering and linking. She will go through helpful exercises which enable students to overcome difficulties that will be found in future pieces and get them familiar with different harp techniques through scales, exercises and studies.
The rest of the lesson is normally taken up with learning new pieces (either from sheet music or by ear or a mixture of the two) and improving old ones. Where appropriate, Harriet will also teach general musicality and music theory for those who want it (clapping rhythms, learning to read music, aural exercises, etc).
Ultimately Harriet works on the belief that harp playing is fun and that making music is something social and joyful that soon becomes a way of life, with your instrument as an extension of your own personality.
She loves working with students to help them develop the ability to get lifelong pleasure from playing music and to give some of that happiness back to the audiences who listen to them.
To book a harp lesson or workshop with Harriet: Tel (07890)142029 Email info@harrietearis.com Contact page
Online Lessons
During lockdown Harriet is currently giving all her lessons over the internet either via Skype, Facetime or Zoom. All you need is a computer or tablet with a webcam, broadband connection and a free Skype/Zoom account.
To book a series of online lessons, click here to email Harriet.
She can then provide you with her Skype address or a Zoom link and you can set up a time that suits both of you for your first lesson. Payment is through Paypal (a secure website) or bank transfer. Any follow-up material such as feedback or sheet music will be emailed straight through to you after each online lesson.
Many musicians are now getting music lessons online (particularly during the Covid 19 Pandemic!). Harriet started teaching harp lessons over the internet almost 10 years ago, when it was still a relatively rare thing to do. She has built up a lot of experience as an online teacher. Several of her pupils have now gone from zero to Grade 8 level with nothing but online lessons.
It's a fantastic opportunity to learn new tunes and techniques and give your playing a boost - all without ever leaving your front door. It is more economical and less time-consuming for you and helps the environment because of reduced travel emissions. Why not give it a go and see if it works for you?
<!-//////////////////////////////////////////////////////////////////////////////////////////////////////////////////////////////////////////////////////////////////////////////////////////////////////////////////////////////////////////////////////////////////////////////////-->