<!-//////////////////////////////////////////////////////////////////////////////////////////////////////////////////////////////////////////////////////////////////////////////////////////////////////////////////////////////////////////////////////////////////////////////////-->
Collaborations
Clovis Phillips & Harriet Earis
A duo with Welsh jazz guitarist Clovis Phillips. Together Harriet and Clovis play a mixture of Celtic music, jazzier numbers and their own compositions - expect everything from Robat ap Huw to ragtime!
Clovis Phillips has been playing folk music in bands since he was 4. He completed a degree in Contemporary Music in Salford, Manchester before doing postgraduate work studying jazz in London.
Bookings: Click here to email for bookings
---
"Superlative" (Musician's Union Magazine)
The Jazz-Celtic fusion album From the Crooked Tree with jazz drummer and percussionist Sam Christie and double bass and electric bass player Andy "Wal" Coughlan came out in 2007. There is a slideshow of T.H.E. Trio on youtube and you can click here to buy a copy of From the Crooked Tree.
In August 2008 the trio represented Wales in the Festival Interceltique in Lorient, France and Celtic Connections in Glasgow. In 2016 the next studio album "Alignments" was released, using pedal harp as well as Celtic harp to give an even jazzier feel. Some tracks also used poetry in Welsh and English. Radio Wales presenter Frank Hennessey commented about "Alignments" that it made him feel so good that "The Harriet Earis Trio should be available on the N.H.S.".
The trio have also been touring with tap dancer Lee Payne as a show "Harp and Tap":
Bookings: Click here for T.H.E. Trio's biography for concert programmes and a 300 dpi publicity photo
---
Colman Connolly & Harriet Earis
"An absolute delight...an instrumental duo of major folk status" (Cambria Arts)
The dynamic duo with Irish uilleann-piper, flute and whistle-player, Colman Connolly has been going for over 12 years. In that time Harriet and Colman have performed at festivals as far afield as Shetland, London and Frankfurt with regular concerts and tours across the UK, Ireland and abroad. They first met as part of the London-Irish band Siansa in 1998. Colman is an All Britain Champion on Pipes and Flute and is currently touring Europe with his German-Irish band, "Blue".
Bookings: Click here to go to the duo website for full information, publicity photos and soundbites
---
As a duo and as part of the trio "Triban" with fiddler Jasper Salmon, Harriet and Ian have played concerts across the UK, including representing Wales in "Yn Chruinnaght" festival on the Isle of Man. The Triban album "Dragons" came out in 2005.
Singer-songwriter Ian Wyn Rowlands performs everything from The Beatles to Radiohead to medieval Welsh songs, moving seamlessly from pop to traditional. Ian's own songs in Welsh and English get frequent radio-play on Radio Cymru. Have a listen to Ian on Myspace here.
Bookings: Click here to email for bookings
---
Harriet is now a permanent member of the long-established Aberystwyth ceili band, "The Backroom Band". Multi-instrumentalist Bruce Cardwell plays uilleann pipes, Northumbrian pipes, whistles, wooden flute, guitar and cittern in the bands and provides vocals in English, Irish and Welsh. Dave Hamilton plays fiddle and octave fiddle.
The Backroom Band are one of the busiest ceilidh bands in Wales working with caller Andy Rowlands to give barn dances and twmpaths at functions locally and across Wales and the borders. The band also perform concerts for folk clubs and events.
Bookings: Click here to watch videos of the band playing and to book the Backroom Band for ceilidhs, functions or concerts
---
Harriet has been a full-time member of the six-piece, London-based traditional Irish band "Siansa" since 1997 and started playing Irish music in the first place through her work with the band.
Siansa includes several All Ireland Champions and has been going for almost 20 years, with all the members past and present remaining firm friends. The current line-up is Tim Dowd on uilleann pipes and low whistles, Geoff Pollitt on fiddle/mandolin/vocals/guitar, Peter O'Brien on bodhran, Colman Connolly on uilleann pipes/flute/low whistles and Dave Hamilton on mandola/guitar/vocals. Siansa have huge experience working with different callers for ceilidhs and functions across the London area and have also toured abroad and given concerts at many folk clubs across the UK.
Bookings: Click here to go to the band website to book "Siansa" for ceilidhs, functions or concerts
---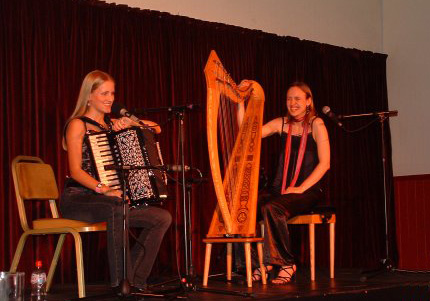 The duo with piano accordion star Harriet Bartlett from Shropshire.
---
The duo with fellow harpist Luisa Cordell with whom Harriet has also toured in Belgium (October 2002), France (February 2004) and the US.
---
The 4-piece Irish/Scottish show with piper/flute-player Colman Connolly, Champion Irish step dancer Denis McDermott (from Michael Flatley's "Lord of the Dance"show) and Scots Gaelic singer Anna Nic Raith.
---
For full details of all concert dates do click onto the calendar page.


Sharron Kraus and Harriet Earis
A duo with Sharron Kraus (vocals, Appalachian dulcimer, whistles) playing mainly old carols and Christmas music. Their album "Caneuon y Gaeaf / Winter Songs" came out in 2012. Sharron has also recorded with Harriet on an album of her own modern folk songs inspired by themes from the medieval Welsh folk tales "Y Mabinogi"
<!-//////////////////////////////////////////////////////////////////////////////////////////////////////////////////////////////////////////////////////////////////////////////////////////////////////////////////////////////////////////////////////////////////////////////////-->